If you want to blow the roof off your income, then carefully read this page
because you are about to get the ultimate lead generation system FREE
Date:
From The Desk of:

Dear Frustrated Wealth Builder,
It should come as no surprise to you when you look at all the emails you get from the big name million dollar marketers to know that the real money comes from sending as many emails as you can to people who want what you are offering, right?
After all, these wealthy marketers don't waste their time surfing traffic exchanges 24/7, clicking PTC's, commenting on blogs, spending hundreds of hours trying to unravel the mysteries of search engine optimization (whatever that is) or buying visitors with Google Adwords or their ilk; because when you get right down to it, they know this important fact; People spend money after reading emails.
The SHEER power of email to transform prospects into customers is the reason why everybody and their dog keeps on banging on the "Money is in the list" drum.
It's really plain and it's really simple.
The faster you get a list of hot, motivated, "cash in hand" leads, the faster you will make the money you want and don't let anybody tell you different.
That's because If you ask any marketer who is actually making it, and they are honest with you, they will tell you the single biggest reason why people fail is because they don't have a targeted list of motivated leads.
But getting that list is the mountain most people just can't climb.
Until now.
My name is Stefan Berg. I, too, used to waste thousands of hours and thousands of dollars looking for the magical solution to my internet money woes.
I was spending a lot of money on upgrades, coaching programs and such with little or no return. The only people getting rich from my marketing were the people I was sending my hard earned money to.
Looking back, I now realize that my biggest problem and my greatest strength was being stubborn. I was stubborn enough to not give up but I was too stubborn to accept the ugly truth that you need your own list made up of hot motivated leads in order to get what you want out of your online business.
And while I would love to say that cracking some closely guarded internet code was the secret to me moving from Sweden to the tropical paradise of Borneo; I can't because all it took for my loving, lovely and extremely patient wife, Catarina and I to move from Sweden to Borneo was simply take the bull by the horns, start building our own Big Fat list of leads and run with it.
This is important...
....We didn't own a membership site. We don't sell products on Clickbank. We didn't have thousands of affiliates driving traffic and we certainly didn't have high powered affiliates flooding inboxes with emails.
I repeat, all we needed to live in a tropical paradise was to take the bull by the horns, start building our own list of leads and we simply shared information about our favourite programs with our list.
And get this, if you have heard me talk in chat rooms or read my emails, then you know that English is not my first lanquage. In fact, I probably couldn't even pass a grade school English test.
That means there is no reason you can't live your dreams too.
But saying the money is in the list is far easier said than done.
It's simply because as I found out, the hard way, that the competition uses every single cut throat tactic they can think of. They are, in a word, ruthless.
And because I truly believe that Zig Ziglar was 'right on the money'
when he said, "you can get everything you want if you just help
enough other people get what they want;" here is the FREE...
"Juiced Up" Lead Generation System All The Other Mailers/Listbuilders Want to Be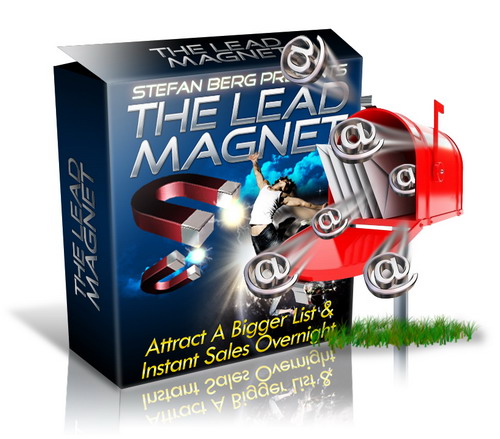 I can almost hear your mind thinking, " Oh no, not another a viral list builder." There is nothing wrong with thinking that, my friend, because there are just way too many "run of the mill" list builders that are simply designed to separate your money from your wallet.
The Lead Magnet Lead Generation System Isn't One of Them.
Here Are Just 13 Rock Solid Reasons Why Your Getting
Your Free Lead Magnet Membership Will Help You....
| | |
| --- | --- |
| | Build Massive Downlines That Will Turn Your Upline Green With Envy |
| | Make More Affiliate Sales More Often |
| | Practically Pull Hot Leads Out Of Thin Air |
| | Promote Home Business Opportunities |
| | Build Big Fat Laser Targeted Lists |
| | Laser Beam Insane Traffic To Your Websites |
It's really easy to start getting the results you deserve.